Elizabeth Barfield is very familiar with Falling Creek and will be working as a nurse for her fourth summer at camp. She has been a part of Camp Greystone with her sister Lell for several years as a camp nurse. Elizabeth is lending her experience to FCC this summer and is looking forward to seeing her grandson Mason attend camp for his second summer.
---
Adrian Barnes is a graduate of Georgia Southern University with a degree in history. At Georgia Southern, Adrian was a member of the brass section for the Georgia Southern Marching Band and Phi Mu Alpha fraternity. This native of Mableton, GA, was very active in Young Life and was a crew member fro a Young Life Camp in upstate New York. This will be Adrian's second year on staff as a cabin counselor and indian lore instructor.
---
Tommy Carroll is returning to Falling Creek for his fourth summer to be one of our Blacksmiths. He studies the art of bladesmithing (making knives, axes, etc.) and will share his knowledge and skills with campers this summer. Last summer, Tommy lived in New Mexico as a blacksmith apprentice to expand his craft. When you see him away from the blacksmith shop, pick Tommy for your ultimate frisbee team during freetime – he started and coached a team all the way to victory in the Maryland State Championships.
---
Charlie Cassidy is a graduate of Georgia College and State University in Milledgeville, GA, with a degree in Environmental Science. Since graduation, Charlie has been teaching for the University of Georgia as an Environmental Educator at the 4-H Centers for Rock Eagle (Eatonton, GA) and Burton (Tybee Island). Charlie discovered his passion for the environment through fly fishing. He thrives teaching the campers more about his passion for fishing, how water sheds work, entomology (matching the hatch), fly tying, how to read a river and trout habitat and feeding behavior. This will be Charlie's second year on staff as our resident fish whisperer and leading our first father son fly fishing trip to Montana.
---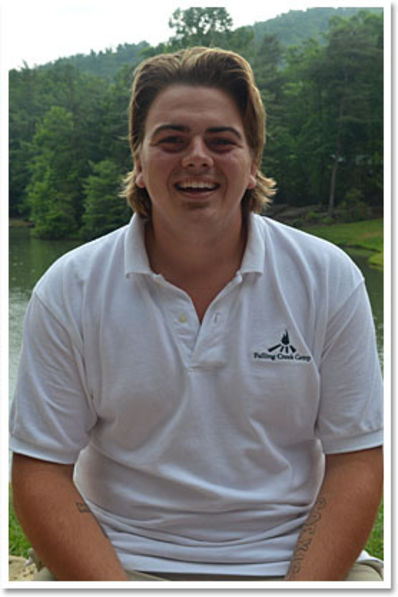 Andrew Cobb is a graduate of Reinhardt College and was a member of their tennis team. During his high school tennis career, Andrew went undefeated his senior year then during his freshman year at Marion Military Institute in Marion, Alabama, he won conference. Andrew continues to play league tennis and will return to FCC for the forth summer as head of the Tennis Program and Advanced Tennis Camp.
---
Tory Gentry comes to us from Vanderbilt University where she is a sophomore studying medical administration management. She comes from a camping background, spending six years as a camper at Camp Greystone. Tory is excited to bring her love for tennis to Falling Creek. She has been involved with various youth organizations her whole life, from teaching vacation bible school in the Dominican Republic to volunteering with Camp Opportunity, an after school program for underprivileged children. This will be Tory's third sumer at camp and will be heading up the FCC Country Store again this year.
---
Taylor Hall is a Software and Information Systems major at the University of North Carolina – Charlotte. Originally from Holly Springs, NC, this will be iTaylor's second summer of staff as our Digital Asset Manager. Last summer, we introduced new technology to our program that keeps records and attendance for all of our programs in real -time. Taylor manages the data and technology involved to allow our programs to thrive and become more efficient.
---
Mickey Herman is a ten-year former Falling Creek camper and CIT. He is currently attending Wake Forest studying Political Science and Business. This fall semester, Mickey is working very diligently on preparations for the LSAT and enter law school in the fall. Mickey is back e for his forth summer on the sailing staff. He will serve as one of our experience Tribal Leaders this summer.
---
Erin Hiller is a former Merrie-Woode camper and counselor from Columbus, OH. This will be Erin's fifth summer at Falling Creek. Her son Jack will be starting his fifth year at camp. Jack has attended June Camp for the last four summers. When Erin is not leading our Medical Team, she is an emergency room nurse in Columbus.
---
Jarvais Jackson is an elementary education major at Winthrop University in Rock Hill, SC. At Winthrop, Jarvais is a member of the Council of Student Leaders, a Winthrop Ambassador and VP of Communication for the Resident Student Association. This will be Jarvais' second summer at camp and will be one of our camp photographers. What started as a hobby, Jarvais has a passion to share with others what he sees through his lens.
---
Jez returns for his eighth summer on paddle staff. He is World Cup Freestyle Champion, three time world cup event winner, Australian Rafting Team member, six time Australian National Champion, and Team Jackson Kayak member. This past August, Jez won the bronze medal at the 2013 World Championships at the Nanatahala River. He has co-produced films through Skippy Films and has instructed whitewater kayaking in both the USA and Australia for over a decade. Jez leads the HUCK Paddling trip and is looking forward to taking Falling Creek back up North to visit our Canadian friends on the Ottowa River.
---
Robert Kirby returns for his 25th summer on staff. He will be working this year as the leader of Falling Creek's Counselor In Training and indian lore programs. This is a leadership program that consists of former campers who are entering their senior year of high school and preparing for their opportunity to be on staff when they are eligible. Robert is a high school "teacher-of-the-year" in nearby Hendersonville.
---
Matthew Kornegay is from Clarksville, GA, and attends the University of North Georgia majoring in Computer Science. Matthew is no stranger to summer camp, he grew up at Lake Aurora Christian Camp in Lake Wales, Florida, and since moving to Georgia he has volunteered frequently at North Georgia Christian Camp in Clarkesville. This will be Matthew's second summer at FCC teaching archery and as a member of our cabin staff.
---
Andrew Maddox is a biological science major at Clemson University. Andrew grew up just out side of Columbia in Lexington, SC, and played on his high school ultimate frisbee team. Andrew was very involved in Boy Scouts growing up and spent a lot of time backpacking on the AT and in the Rocky Mountains. This will be his second year on staff as a cabin counselor and teaching football.
---
Stephanie Mimbs is from Loganville, GA, and attends Young Harris College in Young Harris, GA. At Young Harris, Stephanie is an Art Education major and runs for the YHC Cross Country and Track Team. This will be Stephanie's second year on staff as a member of our Pottery crew.
---
David Morgan will be joining our medical team again during our 2-Week Session. This will be David's second summer at FCC and he lives in Columbia, SC, with his wife Karen and their son Matthew. David is a Manager for the PACU at Palmetto Health Richland and is also in the Air Force Reserves as a RN.
---
Jim Parham is back for his eighth summer on staff. He is an accomplished mountain biker and author who helped guide our Mountain Biking Program over the past several the summers. Jim has written books including Off The Beaten Track – a series of mountain bike guide books. This summer, he is lending his experience to our Backpacking Program in Main Camp leading the Blaze Wyoming Trip to the Wind River Range.
---
Kevin Pelsinski is a graduate of Central Wyoming College with a degree in Outdoor Eduation and Leadership. He was a teacher at Tollhouse Preschool in Merrimac New Hampshire and a Student Activities Representative at Central Wyoming College. This will be Kevin's third year on staff and will be sharing his vast paddling experience to the tripping program.
---
Andrew Smith graduated from Valdosta State University and is a second year student at the Vanderbilt University School of Nursing working on achieving his Nurse Practitioner degree. He is excited to return to Falling Creek for his sixth summer to help lead our HUCK Paddling trip to the Magpie in Canada. Andrew's other interests include horseback and tennis.
---
Mike Stephenson is from Hoschton, GA, and attends Berry College majoring in History and Secondary education. At school, Michael is a member of the Berry Crew team, Young Life, Model United Nations, Phi Alpha Theta (History honors society), Cross Country team and the Honors Student Union. This will be Michael's second year on staff teaching cross country.
---
Harry Titus is from Sumter, SC, and attends Coastal Carolina University majoring in elementary education. At Coastal Carolina, Harry is president of the Resident Hall Association, is a Dalton-Floyd mentor at South Conway Elementary School mentoring students, and a Teal Trailblazer (campus tour guide for Admissions Office). This will be Harry's second year on staff as a cabin counselor, basketball and wood shop instructor.