Camp Leadership
Yates & Marisa Pharr, Owners/Directors
When Yates met Marisa at Appalachian State University, summer camp was already "in his blood". For many years, Yates and his brothers attended Falling Creek—Yates for twelve summers as a camper, C.I.T., and staff member.
In the summer of 1989, Yates and Marisa both worked at Falling Creek—Yates leading the whitewater program and Marisa as head of the waterfront.
After they graduated with degrees in recreation from ASU, Marisa joined the staff of the YMCA, first as aquatic coordinator, and then as a staff trainer. Marisa later served as a Certified Therapeutic Recreation Specialist at the Alexander Children's Center.
Her commitment to the well-being of children and families is exemplified by her volunteer work with many community programs, church, and their children's school. The Pharr's are also licensed for foster care.
Yates, meanwhile, returned to his hometown of Charlotte, N.C., to serve as President of Bissell Development. In 1991, Yates and Marisa married and now have five daughters: Annie, Lucy, Mary, Danielle, and Jasmine. Even as Yates was forging a successful career in the business world, he continued to work with children, serving as assistant scoutmaster for the same troop in which he earned his Eagle Scout. The Pharrs moved to Asheville and Yates became Vice President of commercial development for Biltmore Farms until returning to Falling Creek. Their family makes their home at camp year-round. When Mary was very young, she thought the boys and college-age counselors that came to camp each summer to eat, sing, play and worship with us were family—and this is true.
You can learn more about Yates & Marisa in this Ballantyne Magazine article (PDF).
Frank Tindall, Associate Director
Frank has been camping since his childhood—first as a camper, then a counselor, and in 1984 he bought his own camp! Frank and his wife Elizabeth had the time of their lives as they directed Camp Illahee (Brevard, North Carolina) for 18 years. After passing the torch at Illahee, Frank worked as a camp consultant with camps around the country.
In 2005 Frank joined the Falling Creek team bringing his extensive knowledge of camping and leadership development.
Frank is an active member of the community, serving as the Chairman of the Young Life Committee and volunteering as a coach for tennis and basketball.
Ben Williams, Outdoor Adventure Director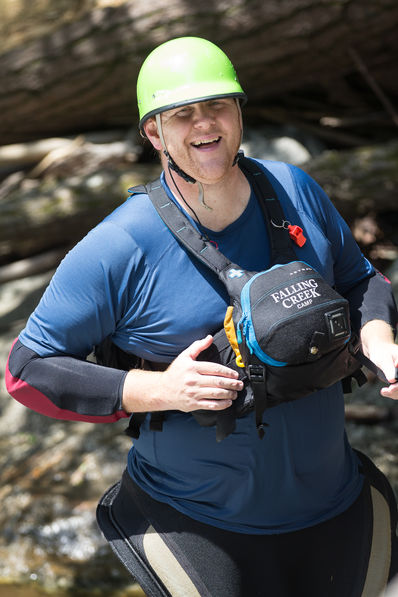 From Ohio, Ben attended Mount Vernon Nazarene University and majored in secondary education and history. Ben joined the Falling Creek summer staff in 1998. In August of 2006, Ben joined the full time staff as an Assistant Program Director.
Ben now serves as the Outdoor Adventure Director. Ben is a certified Wilderness First Responder, and a Swift Water Rescuer. He serves on the board of teh American Camp Association's Southeast Section and Legislative Committee for the North Carolina Youth Camp Association.
Playing no favorites, Ben takes advantage of all the outdoor opportunities offered in the mountains. He and his wife Elliot, a veterinarian, are avid kayakers, rock climbers, backpackers, and bikers. What would you expect from an Outdoor Adventure Director?
Dusty Davis, Chaplain
Dusty Davis loves Falling Creek Camp and his early days forged much of the direction that has shaped his life—the value of friends, spiritual development and lots of adventure!
His sons have loved Falling Creek first as campers, then CIT's and staff. Camp has left an indelible mark on their whole family, including his wife, Mary Lou, who also worked here in the early 80's.
Dusty has worked with sports ministry for the past twenty-five years on college campuses from Oregon to the University of Alabama, Birmingham.He teaches athletes spiritual values that mold their lives and has led mission trips to 17 countries around the world.
He has been an extreme athlete himself. As a two time state road cycling and mountain biking champion, he road raced in Europe as well as the Olympic Trials, and he rides motorcycles in long off-road races like the 24-hour-enduro challenge.
He now pours his love for God and adventure into his own three children as they mountain bike and rock climb throughout the southeast.
Jim Goodrum, Staffing Director
Jim's first summer at Falling Creek was in 1979. He was a camper for seven years and CIT for two years. Jim is a graduate of Mercer University in Macon, GA and while he attended, worked at FCC as a Catawba Tribe cabin counselor and activity leader.
In the summer of 1993, Jim moved from the swim docks to begin his tenure as Program Director. In 1994, Jim joined the full-time camp staff as Assistant Director / Program Director until 2002.
He returned to Georgia in 2002 to work at Mercer University as Assistant Director of Admissions and Recreational Sports and Wellness.
At Mercer, Jim met his wife Kristi and they married in 2005. Jim returned to camp in 2008 to share his twenty-plus years of Falling Creek experience. They live in Flat Rock with their young children, Thompson and Alice.
Jim's passion for Falling Creek and it's mission, combined with his knowledge of camp operations, sets the stage for his primary focus with FCC's staff and alumni development.
Nathan Newquist, Operations Director
Nathan is a native Texan. He started working for Falling Creek in 2001. Joining the FCC year-round team in 2008, as Program Director, then transitioning to Operations Director in 2012, Nathan's knowledge of Falling Creek combined with his skills in system design and management continues to move FCC to the high bar we set for ourselves…. "takin' it to a whole 'nutha level!"
Nathan graduated from Texas Christian University with a degree in International Communication. He had the amazing opportunity to study Spanish in Guanajuato, Mexico for a semester of study abroad. After college he worked for the Fort Worth Star-Telegram newspaper and then the Fort Worth School District.
Nathan was active in the local Rotary Club for several years, and now spends a lot of his free time helping as a licensed foster parent for Henderson County. Nathan is also the most technically savvy guy we know. If he is not at a computer or behind the wheel of a sports car, you can find him on the sidelines cheering on his two sons, Brent and Isaac, on the football field or the basketball court.
Paige Hafner, Communications Director
Paige knows firsthand the benefits of a camp experience. As Executive Director of the Henderson County Young Leaders Program, she worked with community partners, schools, and local camps to carry out the mission of the non-profit. The organization provides earned experiences to local youth aged 8-17 with a progression of camp sessions throughout the year as the main medium. She brings a vast amount of logistical, computer, and organizational experience. Along with her capability leading a youth organization, Paige has held many positions in the telecommunications industry as a director of processes, projects, and people.
Paige lives in nearby Flat Rock, with her daughters Alison and Sydney, who are veteran campers. She stays busy cheering them on in their sports activities and serving as a volunteer and board member with several community organizations. Paige is excited for summer when camp is in full swing!
Paige is one of the people you will likely speak with if you call the camp office, and can help you with your concerns or questions!
Chelsea Dozier, Administrator
Growing up mostly in Hendersonville, NC, Chelsea spent many summers at the local YMCA camp. Starting out as a camper, she eventually became a CIT, a counselor, and even became a camp director at Fletcher Parks and Rec day camp.
Chelsea graduated from Brevard College, where she met her husband, M.A. Dozier. They met their first year at Brevard, where he played baseball and she played soccer. They love doing adventurous activities together; from hunting and fishing, to skiing and hiking, and serving God, especially through mission trips. After graduating in 2010, M.A. moved back to Georgia and Chelsea began teaching chemistry/biology at Brevard High school, just outside of Henderson County. Determined to find a job in North Carolina, M.A. found a job as a counselor at Falling Creek Camp. Soon after that summer, they got engaged and Chelsea married the love of her life in 2012.
The summer of 2013, Chelsea worked as the summer office manager at Camp Illahee in Brevard. She fell in love with this job. As God continued to open and close doors, Falling Creek became clear in her sights. Chelsea joined the year around staff in June of 2014, jumping right into the June session. You may speak with Chelsea when you call the camp office and she is involved in Falling Creek's social media presences as well.
Mickey Herman, Assistant Program Director
Mickey Herman has joined Falling Creek Camp as Assistant Program Director for a year.
Mickey began as a camper at Falling Creek in 2001. He was a camper for eight years and a CIT for one year.
In 2011, Mickey joined Falling Creek's summer staff as a cabin counselor and sailing instructor on Lake Summit. Over the next several years, he served as a tribal and activity leader.
A graduate of Wake Forest University majoring in Politics and International Affairs, Mickey has deferred his admission into Wake Forest's School of Law until fall 2015.
He is excited to join Falling Creek's full-time staff as Assistant Program Director until he returns to his studies.
Peter Bishop, Assistant Program Director
Peter joined the Falling Creek family in the summer of 2006 after graduating from Loughborough University in the United Kingdom with Bachelor of Science honors degree in Geography and Economics. During his five summers at the Creek, he has served as a cabin counselor, Tribal Leader for Cherokee, Catawba and Iroquois tribes, and as head of swimming. In summer 2014, Peter transitioned to the Assistant Program Director position.
Originally from the UK, Peter is also a permanent resident of Australia, living in Sydney. He spends his time throughout the year between North Carolina, Sydney and the UK (and a few other places just for fun).
Peter works for the YMCA as an Outdoor Education Instructor, teaching and instructing children and young adults over a variety of activities from High Ropes courses and climbing to abseiling and kayaking, using these activities to develop team building, life skills, and inspire confidence. Peter was a member of the Sea Scouts as a teenager, and his love for the outdoors developed from his paddling, hiking and camping experiences within the organization.
Facility Managers
With over 60 years of combined FCC experience, Simon, Jerry and Drew are critical members of the Falling Creek team. From carpentry to plumbing, electrical to landscaping, they can do it all. Each is also knowledgeable in key camp activities: Simon – horseback and blacksmithing; Jerry – woodworking and nature; Drew – soccer and Indian Lore. Their experience adds to the continuity and excellence of the programs.