Helpful Links
Helpful Vendors
The following vendors have been very helpful to our camp families by providing great service and special packages.
Outdoor Gear

Diamond Brand - Pre-assembled camp packages
Use Network Key DB34011
Families receive a discount as part of the Falling Creek network.

Nantahala Outdoor Center
888-354-6340
And, if you choose to purchase gear from www.noc.com, use the discount code "FALLINGCREEK" for 15% off your purchases.
Camp Trunks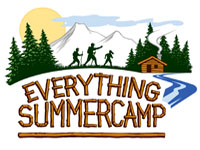 Everything Summer Camp
1-800-535-2057
Falling Creek families get great discounts on camp trunks
and lots of other camp gear. Use code BEHOLD.
Clothing Labels
Other Camp Items
Places to Stay Near Camp
Below is a list of accommodations in and around the Hendersonville area. Rates vary widely so it is best to call the location for information. Summers are a very busy time so try to make reservations early, especially if you choose a resort or bed & breakfast. On opening day at camp, we will have an additional handout of area restaurants and area attractions.
Biltmore Farms Hotels
When making reservations at the following Biltmore hotels, request the "Biltmore Park Corporate Rate."
For more information on Biltmore Farms Hotels, please visit their website.
Other Places to Stay in the Area
Please click on any Hotel, Inn, or B&B to go to their respective website.
Hotels Near the Asheville Airport

Hotels in Hendersonville

Area Bed & Breakfasts

Barker House 1891, (828) 699-3291
B&B on Tiffany Hill, (828) 290-6080
The Canoe Dock, thecanoedock@gmail.com
Claddagh Inn, (828) 697-7778
Cottage at Long Mountain, Bob's Creek Road, (828) 696-2011
Elizabeth Leigh Inn, (828) 698-9707
Highland Lake Inn, (828) 693-6812
Inn on Church Street, (828) 330-3836
Lakehouse Lodge & Spa, (828) 693-5070
Mill House Lodge, (828) 693-6077
The Oaks Bed and Breakfast, (828) 749-2000
Pine Crest Inn & Restaurant, (800) 633-3001
Timber Lake Vacation Cabin, (828) 393-7098
Waverly Inn, (828) 698-9193
Local Attractions
Hendersonville & Flat Rock Area

Brevard Area

Pisgah National Forest - Hiking and biking trails

Asheville Area

Whitewater Rafting
Boarding Schools in the Area
North Carolina Camps for Girls
Partners