It seems like the less time we have left at camp, the more we try to pack into each day! This Saturday was no different. After sleeping in an extra hour (crucial for preparation with all that was ahead), we enjoyed breakfast and Morning Assembly before beginning tournaments. Every Saturday, we take a break from activities and enjoy some friendly competition in an assortment of tournaments around camp. This morning's tournaments included:
Singles Pickleball – With 37 participants, Spencer S. emerged as the top guy to beat.

Ultimate Frisbee with 6 teams – Parker Moon's Tennessee Titan's won the title
Indoor Soccer with 4 teams – The "Blues" team won it all
Singles Disc Golf – Collier L. and Raines K. tied at 4 under par on the challenging 18-hole mountain course
Magic card challenges doubles match – Hill J. and Grayson G. were the ones no one could out-play.
Arts and Crafts took a trip to downtown Hendersonville for the annual "Chalk it Up" festival! Check out the event's video here for more information.
At the swim docks, there were three challenges:
Fastest 50 meters (two lengths) – George G. was the victor posting a screaming 29.65 second time.
Best trick off of the high dive – Cole L. had an amazing back flip to take the honor of best
Biggest splash from the high dive – Spencer G. had an outstanding splash
At the Climbing Wall, there were two competitions, including the best time to climb the Leanardo route, and the most number of crates one stacks without falling. Don't worry, the boys are on belay. Following in his dad's footsteps, Jackson S. took the top prize in both showing that the pro climbing skills have passed to the next generation.
At the Riflery range, the boys had a chance to try for the highest score with 5 shots. Finn and Sam from Rolling Thunder tied for the highest score.
We've had a busy week at camp, with many of our biggest outdoor adventure trips of the session returning in time for the weekend. Our backpackers returned from a 3-day Appalachian Trail trip, where they hiked nearly 30 miles after beginning at the southern terminus of the trail at Springer Mountain, GA. The paddlers spent the last week on a 5-day paddling trip, hitting the New River, Upper Gauley, and Kanawha Falls. A different group of boaters paddled over 75 miles on the South Fork of the New River, paddling north from North Carolina into Virginia. Meanwhile, some of our other paddles were on the Pigeon River for two days, while still others on a 4th trip were paddling the Tuckasegee and Section 9 of the French Broad River. Fly Fishing made their way off campus, fishing at Deep Creek in the Great Smokies National Park. The rock climbers spent the entire last week in Eastern Kentucky, climbing for 5 days in the beautiful Red River Gorge. Rock Climbing also took two other trips, one to the big rocks near Chattanooga, TN, and a day trip to our local Looking Glass Rock, in Pisgah National Forest. Mountain Biking took their big trip of the summer, somewhat jokingly named "Death March," for three days of big riding in Pisgah National Forest. They also took a two day trip to the Fire Mountain trails in Cherokee, NC, and a day trip to Kitsuma Peak in Pisgah National Forest.
Saturdays are always fun to catch up with friends and share stories from the week's trips and adventures, especially since the whole camp community is back together for the weekend. After lunch and rest hour, the camp played an all-camp game of Capture the Flag. The fun wasn't over in the evening – instead, we were excited to enjoy a camp dance with Camp Illahee for Girls! Our younger boys in Cherokee and Catawba headed to Illahee's beautiful campus in nearby Brevard. Our older boys in Tuscarora and Iroquois stayed at Falling Creek to welcome Illahee for dinner, dancing, and merriment. At Illahee, they were gracious hosts as usual, welcoming us with fried chicken, macaroni and cheese, kale salad, chips, and a s'mores brownie for dessert. We had a picnic, and introduced ourselves to the girls while some brothers and sisters enjoyed a short reunion. After dinner, we had a fun dance in their gym with Marcus leading the fun as the DJ, complete with a boys vs. girls dance-off and popsicles as a cold treat afterwards!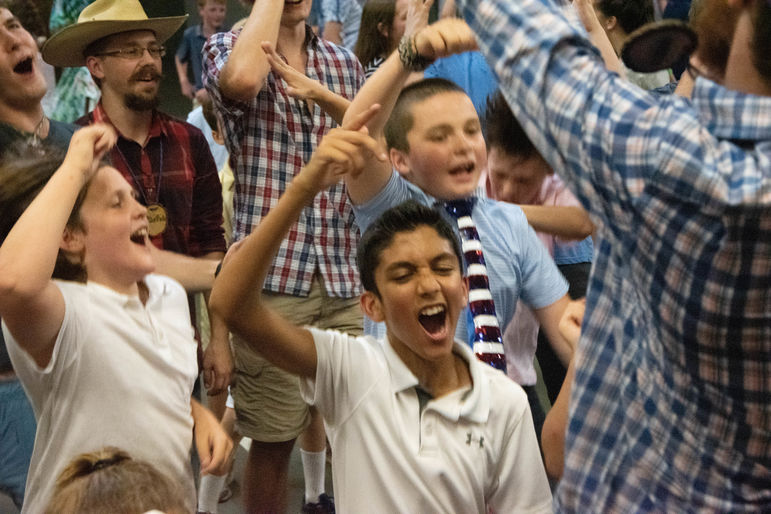 Back at Falling Creek, we enjoyed a cookout supper with the Illahee girls, complete with Cheerwine, grilled chicken sandwiches with all the "fixings", kale and pasta salad with feta, tomatoes, and homemade vinaigrette, Texas caviar, watermelon, and homemade blueberry cheesecake bars for dessert. We broke it down in the gym, with our guys showing off their best dance moves. Some of the counselors even had a Falling Creek vs. Illahee karaoke and fun "minute to win it" competitions! After dancing, we enjoyed "Icee pop" popsicles and said goodbye to our sisters and friends. Then it was time for a "boys only" dance party to end the night on a high note! As always we had a blast with our friends from Illahee, and are always grateful when they host us or travel to dance with us.
If you read last night's blog about our Journeymen, you might be anxious to hear how the evening and day of the Journey turned out. Our nine Journeymen were well-prepared and we're proud of each of them. Unfortunately however, none of them were able to make it past the fire-building and fire-tending section of the Journey, so we don't have any new Keepers of the Flame to report. Though the rain held off last night and the air was still – no wind, we had a damp week which made lighting the wood challenging. Several of the Journeymen were very close, so we are looking forward to their attempt next summer. After such a busy day today, I'm sure everyone is excited for an hour of extra sleep tomorrow, plus Krispy Kreme doughnuts! We just have one more Sunday left of Main session, and you can bet that we'll make it a great one.
More Highlights From This Saturday:
Breakfast: Smoked sausage, egg patties, warm biscuits, cheese, hash browns, an oatmeal station, and fruit, granola, and yogurt bar.
Lunch: Mini corn dogs, macaroni and cheese, grapes, a full salad bar, and whole fruit popsicles for dessert.
We celebrated Kimry's birthday at lunch today, one of our great horseback counselors!
Will C. achieved Warrior level at the Climbing Wall.