1. Breakfast of Champions!
On the 4th of July, we start off the day with waffles topped with fresh blueberries, strawberries, and whipped cream to get our patriotic juices flowing with the red, white, and blue.
2. Hanging at the Lake!
We have several activities at the lakefront on July 4th. Including an epic mountain biking lake jump where boys qualify to pedal hard down a small hill and up a ramp to jump off of their bikes in mid-air into the lower lake.
Also at the lake, the ultimate frisbee players practice their layouts by jumping off the diving board to catch frisbees thrown out across the lake.
3. Impromptu Star-Spangled Banner!
Randomly, at a meal, a group of people stand up and sing the National anthem. By the end of the song, everyone in the dining hall stands with hands over hearts singing their hearts out for America.
4. Even the Australian Staff Are Super Pumped for America
We have several Australian staff members this year. They joined in the excitement all day for America's birthday.
5. DISC-GOLF!!!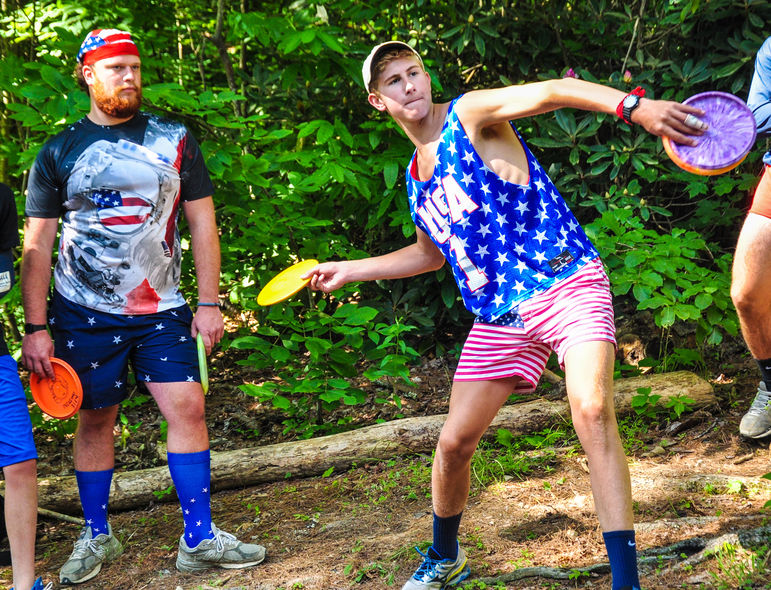 Several of the guys trekked across camp to play our 18-hole disc-golf course while looking great in their patriotic outfits.
6. Playing in the Mud Again!
Every year, for the 4th of July, we hike down to the Green River Flats and have a great time hanging out. One of the biggest highlights of this is the mud pit. Even the directors roll around in the mud, and the boys have a great time getting dirty before washing off in the Green River.
7. Food! Food! Food!
After all of the shenanigans in the mudpit, the boys clean up and change clothes and line up for great barbeque, delicious sides, and, of course, the wonderful drink that is Cheerwine ("Born in the South, Raised in a Glass"). They get to picnic in the grass and eat with any and all of their friends.
8. FIREWORKS!
What 4th of July celebration would be complete without fireworks??? NONE! That's why after the hike back to camp after dinner, the boys shower up and head out to the grassy knoll and lakeside spots to watch a magnificent fireworks display before heading to bed a little later(but a little more excited) than usual.